Last week I talked about how project management is a lot like running a military campaign.  Well, as any defeated (or victorious) arm-chair war-fighter can tell you, morale is one of the most important elements in determining tactical success.  The same principle applies to business leadership in R&D.
A strong (and sustainable) team and firm virtually require a strategic award system for employees that address these four areas:
Compensation, Benefits, Recognition, and Appreciation
Your award system must recognize two types of employee activity– performance and behavior.  Are you compensating a high-performing employee for time or innovation?
These can be measured at nearly all levels of Project Management by applying the Motivation Triangle: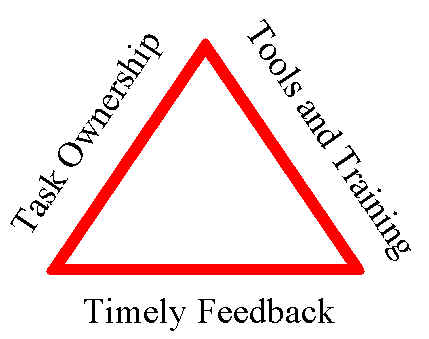 What this means and how you can motivate your teammates and employees:
Invite feedback from day one
Have informal review sessions
Establish individual and team goals

Identify what activities are important to your company

Enhancing customer relationships
Fine-tuning critical processes
Helping employees expand their managerial skills

Genuine interest in the employee's future career and work-life balance
Increase compensation and manage by milestones
Use cloud-based PM software
Have clear expectations to build your project discipline methodology
Make it clear who is responsible for tasks and what is expected of them.
Don't use the sink or swim method for work assignments
Don't let poor performers slip through the cracks without comment (inverse is especially true for high performers!)
Don't reward your best team-performers by dumping all of the work on their backs.
Avoid superficial project management solutions.
Policies and practices must be prescribed first before team members are taught their responsibilities.
Sending people to training because they don't know what they're good for is a sign of bad management.
One awesome benefit for consistent excellence in performance and behavior (particularly of the innovative kind!) is longer-term rewards including offers equity ownership.  Align individual economic interests with company performance!!!
If your firm or office has trouble offering a competitive benefits package, consider turning to professional employer organizations like Administaff to gain access to a broader array of company benefits. Do not diminish the low-cost/high-return benefits of employee recognition and appreciation
Avrahami, H.  (2012, July 19).  "Project Managers:  5 Ways to Motivate Your Teams."  Clarizen.  http://www.clarizen.com/blogs/project-managers-5-ways-to-motivate-your-teams.html
"Best Ways to Reward Employees."  Entrepreneur. https://www.entrepreneur.com/article/75340
Chapman, J.  (2001).  "Motivating the Project Team."  Principle Based Project Management. http://www.hyperthot.com/pm_motiv.htm
Lipman, V.  (2013, March 18).  "5 Easy Ways to Motivate – and Demotivate Employees."  Forbes | Leadership.  http://www.forbes.com/sites/victorlipman/2013/03/18/5-easy-ways-to-motivate-and-demotivate-employees/#4450eaf1682d